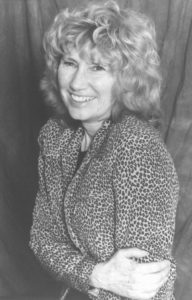 A poet, novelist, short-story writer, and essayist,
Jana Harris has been a Washington State Governor's Writers Award winner and a PEN West Center Award finalist. Born in San Francisco and raised in the Pacific Northwest, she worked for six years as the director of Writers in Performance at the Manhattan Theatre Club in New York City. She now lives with her husband in the foothills of the Cascade Mountains, where she raises horses. She studies the riding discipline of dressage and competes.
Jana is the editor and founder of Switched-on Gutenberg, the first internet poetry journal, which is been in continuous publication since 1995. Switched-on Gutenberg had a website before Microsoft had a website. Her seventh book of poems, The Dust of Everyday Life: An Epic Poem of the Pacific Northwest , concerning the lives of forgotten Northwest pioneers (Sasquatch), won the 1998 Andres Berger Award; she was nominated for the Pulitzer Prize for Manhattan as a Second Language.  Her poetry book Oh How Can I Keep On Singing?: Voices of Pioneer Women
 was adapted for television.
Her latest book, "Horses Never Lie about Love" was released by Simon & Schuster November 1, 2011.
She continuous to actively publish poetry.  Her poetry is featured in an upcoming book, 50 Years of Ms. Magazine, published by Knopf DoubleDay Publishing.
---
Here are some glowing reviews of "Horses Never Lie About Love".
Good Reads – "A heart touching, wonderfully well written memoir. "
New York Journal of Books – "anyone who reads True Colors' story will long remember it"
Seattle Times  "a vivid exposition of the rigors and heartache of raising horses"
Huffington Post – "heart-warming horse tale" , "rave reviews"
Shelf Awarenes – "a compelling tale of dedication, courage and faith"
CowgirlDiary.com – "you will love this book because it has the ease of fiction without the fairytale fluff"
Equestrian Stylist – "the first book that I am dying to tell you about"
Just One More Paragraph – "…how amazing this book is"
Horse Paintings Blog – "from page 1 my attention was invited to Jana Harris' well-written story".
Bookviews by Alan Caruba – " heartwarming story of the bonds between those who love horses and the horses who love them back".
Book Club Classics Sunday Salon – " Harris's memoir is a compelling tale of dedication, courage, and faith."
All Things Good and More – "You needn't be an animal lover to be touched and inspired by Jana Harris's memoir"